If you work in the transport sector, you are probably very familiar with Transport orders . This document is used in all work related to the purchase and sale of road transport.
A loading order is a contractual document that specifies the work to be performed by a transport agent. It defines the load to be transported, the other aspects associated with it and all the information of the companies concerned.
i
In other words, one could say that it is the service contract for the transport of goods by road.
Main features include
The loading order is an essential document before any transport work is carried out. That is why we must take into consideration several related aspects:
Who executes the loading order: It is the loading company or the person who has the goods to be transported who must carry out this document.
The carrier or transport company may refuse an order.
Once the document is accepted by the party providing the service (the carrier), a binding contract is established between the two parties.
There is no model document. Each company can generate its own. However, everyone must have a minimum of data:

Data of the loading company
Contact details of the company that will transport the goods
Cargo information
Information on the unloading

This document is valid for national and international transactions
How is a loading order generated?
As mentioned above, it is the transport companies that are in charge of preparing this document. This is usually achieved through programs that have the companies on their own, or manually.
At WebTrans, we have our own system so that you can generate Transport Orders easily, quickly and without additional investment. We explain how to use it:

Once you have published your freight offer in the system and found a buyer for it, it will have to be confirmed.
A shipment can be confirmed by the buyer, by setting a price from our system, or once the quantity has been agreed through another channel, you can confirm yourself, as the shipper, of the WebTrans GTS management system.

Once the loading has been confirmed, you must access the "Transport orders" section, which you will find in the "Services" menu –> GTS

From this page, you can click on "Sold Freights", choose the one you want and assign a loading order.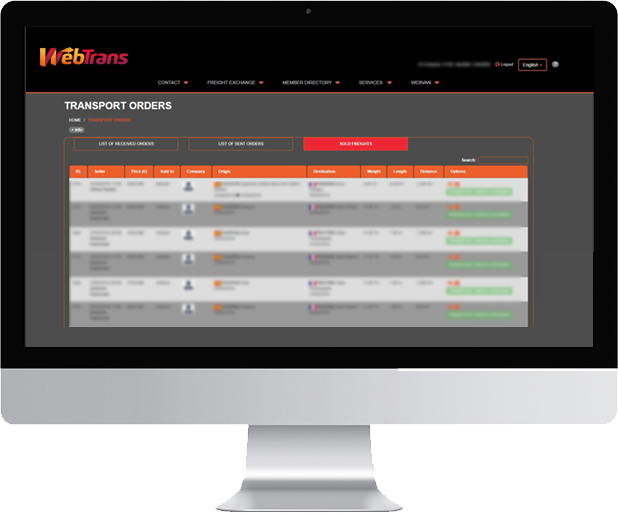 And that's all! Simply fill out the form, which you can even customize with your logo, and send the loading order form directly to the carrier without having to fill out any paperwork.
Advantages of automated Transport orders
As mentioned above, these documents can be made and sent manually. However, systems that automatically generate them, such as WebTrans, can provide multiple benefits;

Save time and money; The ability to send and generate a loading order from the same system as the one where you published your offer allows you not only to save time, to move from one application to another, but also to invest in a single application.

Customization; from the WebTrans system, you can customize your document by adding your logo, signature and even your general terms and conditions of sale.

Security; By having everything centralized, you won't run any risk of fraud or loss of documents.

Real-time tracking of your goods; that's right, once the loading order is placed from WebTrans, you can track them by GPS.
Would you like to test how it works? Access our system free of charge for 14 days and see for yourself the benefits of digitizing and automating logistics system processes.